Having a business is like taking all the responsibilities you can avoid working for someone else. With so many operations to handle (i.e. invoicing, account review, data validation, etc.), it's no wonder why most businesses leverage automation. And there'll always be a point when you ask yourself, "Is there any tool to short-cut the process without making any mistakes?"
Wonder no more; ABN extension for Zoho CRM is built with that specific purpose. 
From importing business ABN and ACN data to the name a business is registered with, you will get all info right from your Zoho CRM.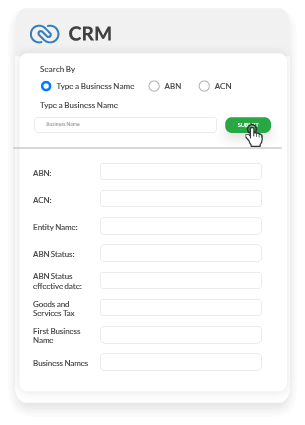 What's the purpose of ABN Extension for Zoho CRM?
Business documentation requires the core info it has. The most important one is the unique identification number it gets when registered. In the Australian context, legal businesses are identified either by Australian Business Number (ABN) or Australian Company Number (ACN), where ABN requires fulfilling specific criteria to be eligible, and ACN is only for the companies. These numbers are kept in ABN Lookup and can be accessed publicly. 
When preparing an invoice, you have to include the number to clear the tax issues. But remembering an 11-digit ABN or 9-digit ACN number is not so simple. Besides, mistakes can happen when manually entering the number. This can be solved if you can automatically import the portal data and input them directly where necessary. 
This is where CRM to ABN extension comes to the rescue. It brings all available data into the CRM with just one click, and you can put them in the required fields. Based on your queries, it will either import ABN data or ACN data to your Zoho CRM from where you can easily add them to your documents. 
This way, you are not only importing actual data but validating the business's operations in Australia. 
What differences does it make to a business?
The number of start-ups is overwhelming in Australia. With so many new businesses always looking for ideal partners, don't be surprised if you get 100+ proposals for new businesses a month. While this is exciting, you cannot overlook that many of them are scammers. 
What's more— there are hundreds of customer queries to handle, and invest time to ensure business growth simultaneously. It's a tough job, no doubt. And there's no way you can take them lightly. 
Yet, mistakes can happen anytime— making the documentation void. So, how do you detect them and save yourself from being the next victim? 
The most convenient way would be to look into ABN Lookup and find their entries.  With the help of this tool, you are rewarding yourself with business automation that streamlines the process and saves valuable business time. 
Finding out your clients' business details is now easy as pie with Zoho CRM to ABN extension. Let's see some ways how ABN integration can help SMEs.  
All details in just one tap
Manually typing all the data into the documents is a painful task. Besides, the repetitive nature of the job makes it inefficient to deploy resources for this specific operation. With Zoho CRM to ABN, you are just a click away from automating the process and freeing up the resources to deploy elsewhere. 
As of the 2021's statistics of Statista, the Australian business scenario has taken a giant leap toward AI-based operations. It's no wonder why the rate is going upward in 2022 and is predicted to go even up in the following years. If you are not streamlining your business process with available means, you are lagging— no doubt. 
You don't have to leave Zoho CRM
Verifying an Australian business and importing necessary data no longer requires you to leave Zoho CRM. You can simply use the extension to validate any business and cross-check the information when preparing invoices. 
Easy Access to Authentic Information
Every business under the criteria is liable to have its ABN number. So, the information you get from ABN Lookup is authentic and updated regarding legality. Referencing the ABN Lookup means you are using the most accurate information. 
As a result, there is no chance of getting any misleading information that may affect the documents you are preparing. Using a gateway that connects both platforms means you are accessing nothing but the most legit information in the easiest possible way. So, ABN integration ensures data validation without any doubt. 
Anyone can do that; it's person independent
Handling business documentation is not an ordinary man's job. It requires a knowledgeable person who knows all the information (GST & Tax number, business functionality etc.). 
But when you are integrating this extension with your Zoho CRM, anyone can handle the task. As you get all the info in the pop-up window, the process becomes easier for anyone involved. Also, there is no risk of dealing with any shady businesses. With the most updated data, business validation is easy as pie. 
So, What's Next?
Smart businesses don't rely on manual labour. Even though automation costs more, it saves valuable business time that balance the ROI accordingly. However, for a critical operation like creating invoices and verifying business legitimacy, human interference may result in unwanted mistakes. To avoid the minimum level of risks and fast-forward the process, automation tools come in handy.